Need To Sell Your Problem Property Fast? We Can Help!
We're a "Residential Redevelopment" company that focuses on buying, rehabbing, and reselling properties throughout Southern Colorado and we want to help YOU. We can give you a fair market cash offer on your property and can close quickly. Size, location, and condition don't matter. We're ready to buy your house TODAY. If for some reason we can't buy your house, our FREE report "SPECIAL REPORT: How To Quickly Sell A Fixer Upper" will give you 7 tips for selling your property quickly and for top dollar.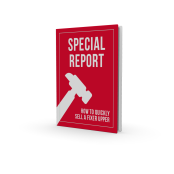 Sell Your House Now!
Complete this short form and receive a fair market cash offer on your property with NO obligation to you. PLUS get immediate access to our FREE report, "SPECIAL REPORT: How To Quickly Sell A Fixer Upper."
We Are A Real Estate Investing Company
Our company buys, sells, and rents homes in Southern Colorado. We will not be acting as your real estate agent or broker if we buy your house, sell you a house, or rent you a home so we DON'T charge ANY COMMISSIONS to you.
Whatever your situation is we can help you: transferring, relocating, change in financial status, distressed property, emergencies, foreclosure, probate and more. We are focused on improving neighborhoods and redeveloping areas that we work in.

No matter what your specific reason is , we are here to make your life much simpler and take some of the pressure off your shoulders. Sellers should know that there is a solution and service that we provide that makes it easy to sell your home quickly and effortlessly with less stress and more piece of mind. Contact us today and let us do this for you.